Over at No Depression they've posted a lovely performance video of us.  On our winter 2012 tour we worked up this warm and wooden version of "Sam's Cathedral," and most nights, if we thought the audience cared, we would end by stepping off the stage and walking into the center of the audience to perform this song. It's one of my fondest memories of this band.  The video of us playing this song was shot in Asheville by Jesse Hamm, right before our show at the Lexington Avenue Brewery. The only thing missing is audience members encircling us.
This photo is of our performance, with audience, at the LAB the same night: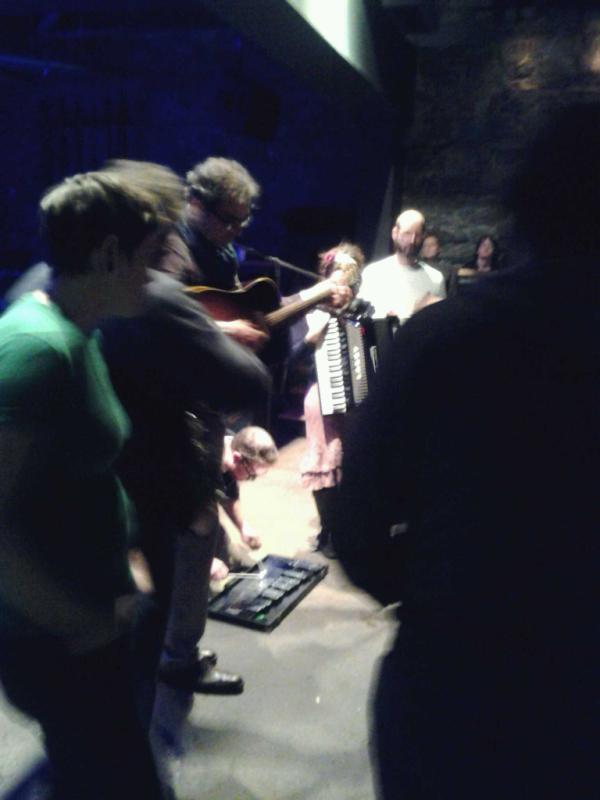 ---
Hey, whoa. The gigantically nifty No Depression magazine just posted an interview with me, and it features live footage of my amazing band playing our hearts out at our Headliners Music Hall show in Louisville, KY.  Looky here:
Dare Dukes plays music which challenges listeners from just about every angle. These are songs with detailed lyrics anchored to earth by deft arrangements that require repeated listens to fully sink in. But that's really the crux of what he's going for in the first place. Dukes, who hails from Savannah, Ga., says he strives to find the beautiful moments in the everyday, pulling from the margins the eccentric characters and bizarre events which form the heart of his adventurous blend of folk and pop. Put that music on stage and it's a veritable powderkeg of creativity[…]fully capable of getting a crowd to sit up and take notice.