Upcoming Shows
---
Sorry, there aren't any upcoming gigs right now. Check back soon!
Contact
---
Label
Mazarine Records
U.S. Publicity:
Jeffrey Smith
Crash Avenue
jeffrey [at] crash-avenue [dot com]
502.384.3107
European Publicity:
Peter Holmstedt
Hemifrån
peter.holmstedt [at] telia [dot com]
+46 (0)33.26.0210
Booking
Dare likes to play any place where people want to hear him—living rooms, stadiums, art galleries, derelict strip malls, glitzy music venues filled with trend-setting starlets, fire-gutted churches with free enchiladas. Write STS Booking, and together we will find a way:
Bright Elephant
bright.elephant.booking [at] gmail [dot com]
Dare Dukes
dd [at] daredukes [dot com]
March Newsletter: Curiouser and Curiouser
Horizon Watchers and Sidewalk-crack Counters,
Bits of reality, formed in invisible places, have been known to suddenly appear and fly right by without my taking notice. Sometimes these bits, large and small, will plop right down in my lap and force me to do things that are not on any of the reigning lists. This can be trying, but I do my best to accommodate reality's demands.
I have two interesting bits to tell you about today:
First, out of nowhere,* a show with the wondrous, eclectic and acclaimed Holopaw has popped up on my show calendar. In fact, the show is this Friday, and if you're anywhere near Savannah you shouldn't miss it. Former Sub Pop recording artists, Holopaw hail from Gainsville, FL. They've toured a ton with Iron and Wine, and member John Orth collaborated with Modest Mouse frontman Isaac Brock in another Sub Pop band, Ugly Casanova (link content alert: poo). You don't get many chances to see Holopaw in a cosy venue like the Sentient Bean. So don't blow it. Ten Cent Poetry from Asheville (by way of Brooklyn) opens and helps round out this great bill of delicate, weird, and lovely indie folk.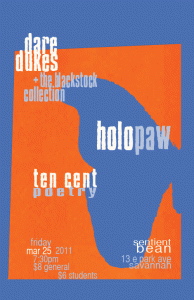 Second, okay, this is curious: A long time ago in New York City, I was a struggling, cranky novelist. Pooped from writing novels that only I knew about, I decided to play all my unheard songs at an open-mike night in the East Village. That night I witnessed a woman named Marla Hansen play her viola and sing her intelligent and beautiful songs about the miraculous and mundane. I took note. I kept her email address. Marla has done some very nifty things in the world of music since I saw her at the open-mike night. She records and tours with the likes of Sufjan Stevens, the National, Kanye West, My Brightest Diamond, and DM Stith. Lucky for me, because I kept her email address, she's also playing viola and singing on my forthcoming record. Yes, I do feel like I'm standing under a rainbow. She lives in Berlin now, but, thanks to email, that's no big deal. She sent me the tracks from her first session a couple weeks ago, and, man, do they sound good. If you want to make yourself happy, track down all her available music and buy it. (No, I never did get those novels published.)
Upcoming Shows
End-of-Newsletter Bonus Prize

Good job. Nice work. Here's your curious token of thanks.
Best,
Dare
*Okay, actually, my friend Scott set the show up.
This post is tagged: Athens Americana Festival, Brandon Nelson McCoy, Holopaw, Hope for Agoldensummer, Marla Hansen, newsletter, Rebecca Pronsky
---
Comments are closed.