Poof: Show with Holopaw and Ten Cent Poetry, March 25
Sometimes shows just drop out of the sky and plop onto my show calendar. That's how this amazing bill worked: Dare Dukes + the Blackstock Collection will be playing a show Friday, March 25, in Savannah at the Sentient Bean with Sub Pop wonders Holopaw and Asheville's Ten Cent Poetry.
All Ages.
$8 General
$6 with Student ID
Whoa. This one is not to be missed.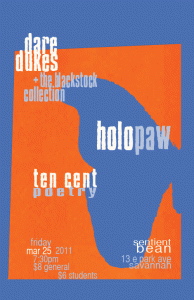 This post is tagged: Holopaw, Ten Cent Poetry
---