TV on the Radio on the Bus
Having experienced a fiasco in an attempt to track horns in Athens, GA—in fact, I emerged from that experience believing I may be suffering from a curse when it comes to horns in Georgia—I was forced to track my horns in a land where horns reside on every corner: Brooklyn.  Today, I tracked trombone, trumpet, alto sax and clarinet in Seth Rothschild's studio in Williamsburg, Brooklyn.  And not just any horn section, but the same horn section that appears on TV on the Radio's new record. Yay for me. Yay for us. Yay for the big ole Greyhound Bus.
Speaking of buses, here they are tracking for "Meet You at the Bus," among other ditties.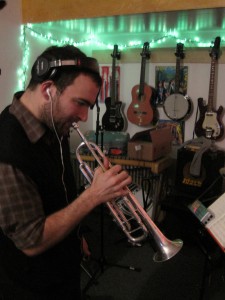 Michael Irwin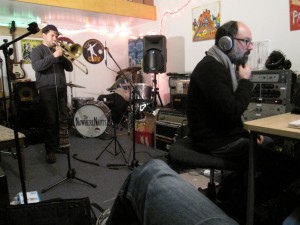 Kevin Moehringer (trombone), Seth Rothschild (engineer)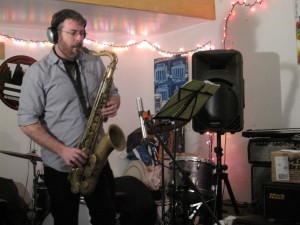 Peter Hess tracks alto sax for "Mighty Love"
This post is tagged: horns, Kevin Moehringer, Michael Irwin, Peter Hess, Record #2, recording, Thugs and China Dolls, TV on the Radio
---