One of the neato things about the Savannah Stopover Festival, which starts today, is the poster contest. I just went to the reception and saw all the amazing entries (the ones that were chosen among the many submitted). There were even a couple cool ones with my name on them. This one, in particular, I think is the bees knees. (I'm a sucker for mustard, bikes, and DIY jet propulsion). It's designed by a Savannah College of Art and Design student named Ben Gephardt.
Ben, where are you?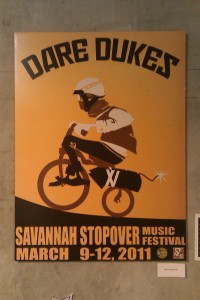 ---
Only two weeks until the Savannah Stopover Festival! Check out the calendar of all the sparkly touring and local bands and buy your passes now.
If you pass one of the hard-working festival staff members on the street, shake their hands and give them a hug for bringing so many great indie bands to our weird and wonderful city.
And don't forget to come out and see Dare Dukes + the Blackstock Collection share a bill with Jon Lindsay, Saturday, March 12 at Civvies. All-ages! (RSVP on Facebook.)